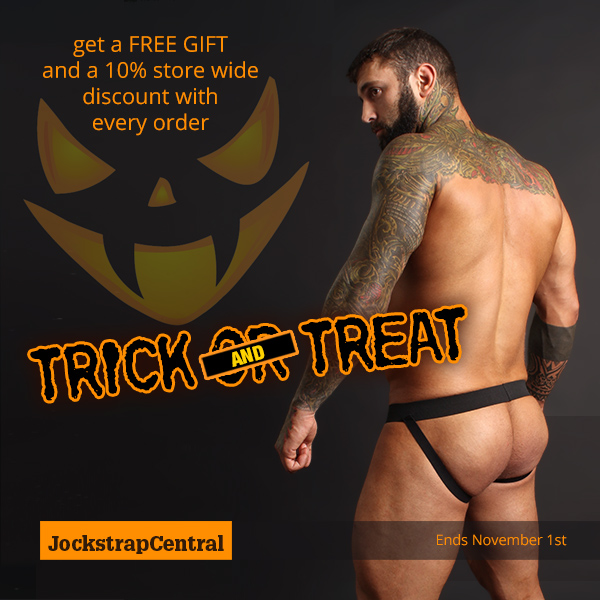 EVERY ORDER GETS A FREE GIFT PLUS 10% OFF STORE WIDE
Forget trick OR treat - this year we're all about double dipping in the candy bowl so we're doing trick AND treat.
Shop at Jockstrap Central
between October 25th and Wednesday, November 1st (at midnight) and you'll not only get 10% off your order but with EVERY order we'll be including a free gift!
It couldn't be easier, just start shopping and you'll find all our products on sale. Jockstraps, underwear, shorts, sports fetish wear, tank tops, full-frontal display suits, bulge boosters, cock rings and more are all listed with the regular price crossed out and the new sale price listed in red. Even better: our clearance items are 15% off and more. Once you've finished shopping, simply complete your order as normal and on the final (receipt) page you'll be asked your waist size. When we process and ship your order, we'll include a free gift.
Although the choice of the free jockstrap or underwear is ours, you will be asked to give your waist size on the final checkout page (the online receipt) so we can choose an appropriately sized gift. The free gift is from our vast selection of samples, photo shoot stock and over stocked items we have on hand. Although every order gets a gift, just like in life and Halloween, size matters and better costumes get better treats.
As the sale is a site wide sale, nothing is excluded so it's a great time to pick up some of our newly launched fetish and sports fetish gear from
Cellblock 13
and
Nasty Pig
(Union Suits or Speed Demon perhaps) as they haven't been on sale before. Sports fetish gear from
Full Kit Gear
is also worth a look as it rarely goes on sale due to a deal we have with them.
Also be sure to check out our exclusive gear from
Raw Studio
, it's fun full-frontal display suits, bulge boosters, strapless socks (jocks without leg straps) and loads of cock rings, ball stretchers and cock contraptions. It's all incredibly inexpensive and now more so with the sale - plus you'll get a free Halloween gift.
CLICK HERE FOR JOCKSTRAP CENTRAL